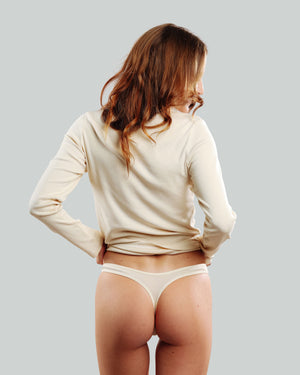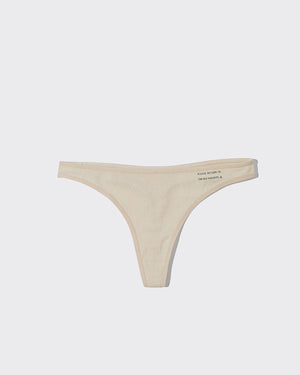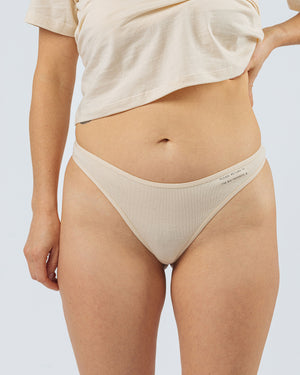 Ellie is 5'5" and wears size S.
Ellie is 5'5" and wears size S.
The Undyed Thong
We just restocked in organics here up to 3XL!
Zero waste meets zero dye (and zero panty lines). Polyester elastane plastic undies causing rashes and itching? Yeah, we hear you. Gynecologists recommend natural fiber underwear for a reason. Our Undyed Thong is for the saucy squirrels who require zero VPL. Plastic-free Pima Cotton. 100% 1x1 Rib Pima Cotton provides stretch that actually fits you, and structure that doesn't dig in or sag out. Sanforized, meaning it won't shrink to Barbie-size after washing. No-roll elastic. Yeah, we dislike that word too, so we're on the hunt for alternatives. Ethically made in Peru on a living wage.
Undyed = better for your skin and better for our planet. Undyed fabrics require significantly less resources and processing than their dyed counterparts. Each of our super soft, natural Undyed Thongs saves:
2L water
0.2kg steam energy
0.5kg CO2 electricity emissions

TBF 101: Transportation for all our understuff is Carbon Neutral through offsets via Cool Effect.
Made in Peru on a living wage.
Please see our return policy here. 

100% Pima Cotton

Plastic-Free Fabric

Reduced Water Waste

Fair Wage

Circular
RESTOCKED: THONGS IN ORGANICS
We just restocked our Thongs in GOTs Organic Pima Cotton. A certified dream come true.
Shop The Organic Thong