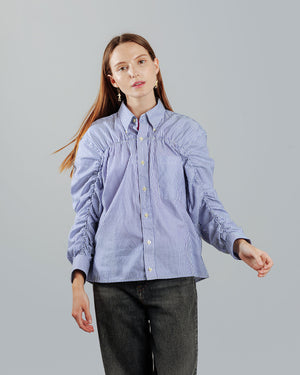 Hayley wears size XS-S, Ron wears size M-L, Robyn wears size XL.
REWORKED SHIRT 004 [YOUR OWN SHIRT]
Hayley wears size XS-S, Ron wears size M-L, Robyn wears size XL.
Did you buy, thrift, or inherit a big men's shirt recently and want us to rework it? Pick from 001, The Simple Scrunch or 003, The Fancy Favorite, then select your desired size, and we'll remake it for you! 

Here's how it works [please read]:
You pick and purchase your size and style.

We send you a prepaid label and bag to ship your shirt to our facility, please leave the order summary inside of the bag.

If you're remaking more than 1 shirt, please purchase accordingly

We recommend you send a

 traditional men's shirt like cotton or a light to midweight cotton blend (if the fabric is super heavy, we may not be able to rework it).

We require the below men's neck sizing for your desired size:

16"+ for [XS-S]

17"+ for [M-L]

18"+ for [XL]

Please note, we cannot work with slim fit shirts.

We will use thread color as close to the color of your shirt as we can.

Please make sure the shirt you send is clean with any repairs made before you send it. We cannot clean or repair anything on your shirt.

We can rework the shirts in about 7 days from receipt in the facility, and will send it back to you when it's finished.

If we cannot rework your shirt, we will refund you less the cost of shipping.

Please reach out with any additional questions to support@thebigfavorite.com
Please see our full return policy here.
All of our undergarments are:

100% Pima Cotton

Plastic-Free Fabric

Reduced Water Waste

Fair Wage

Circular